We had a great school morning!! Baloo is getting awesome at the days of the week, although he doesn't have them in order, and he only sometimes guesses the right day. But he actually knows all the names and whenever you ask if he knows what day it is, he guesses an actual day of the week!! He's also starting to understand the calendar, or so it seems.
Today was B is for Boats. First we read 2 boat books, and they were both surprisingly good! They were cute and entertaining!
Then we did a water activity. This is the first time I've gotten a tub out for Baloo to play in. He plays with water in the bathtub all the time, but from what I understand, it is important to experience water outside of a bathtub.
Part of the time he just played with the water and some cups. Of course we had a boat in there as well. Then we had a bunch of stuff that we tested to see if it would sink or float.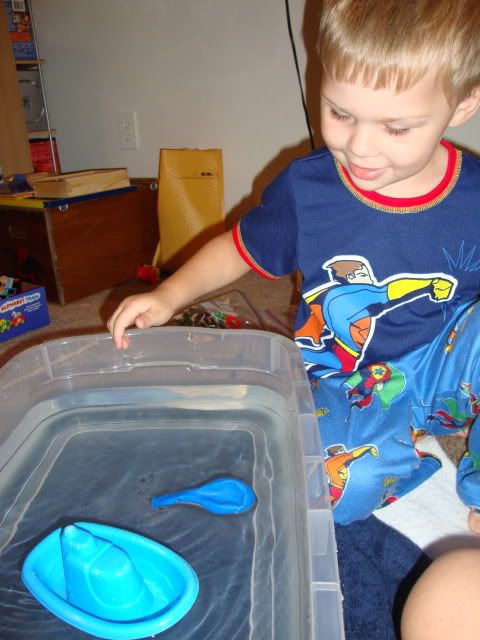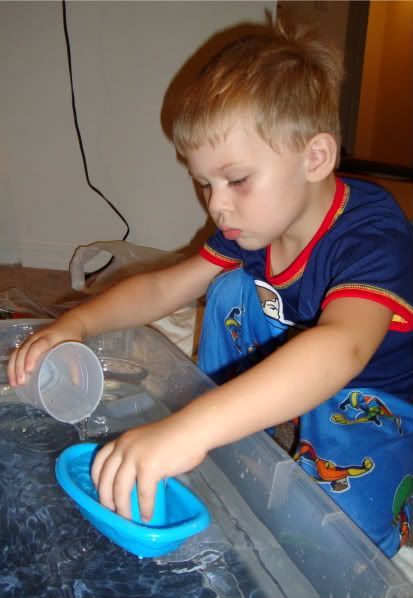 Here are our results: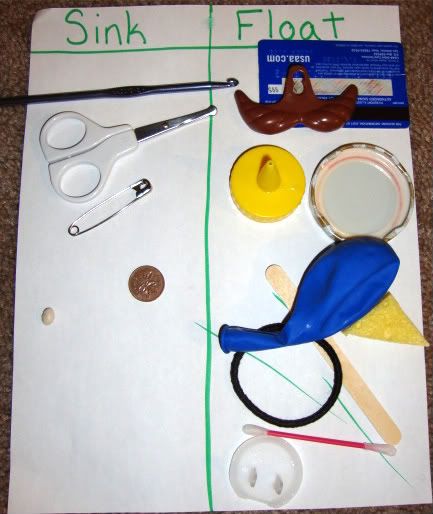 Sink:
Crochet hook
Baby scissors
Safety pin
Bean
Penny
Float:
Old debit card
Mr. Potato Head Mustache
Balloon
Mustard container lid
Jar lid
Popsicle stick
Sponge
Hairtie
Q-Tip
Outlet protector
I think if we had given some of it more time it would have sank, and we actually found that if you push the debit card in a bit it will sink. But he had a lot of fun, found out the difference between floating and sinking, and learned what kinds of things sink or float!