I'm so excited to be joining in 25 other bloggers to share our Top 10 Learning Lists with you!! We will be sharing all week long, so make sure to check back!
You can also check out the entire list here, or visit the Schools Out Pinterest board!
We are HUGE Toob fans here – all of us! Every chance I get I try to pick up another Toob and just add it to our collection. They are out every single day, without fail, and one of the boys is typically carrying one around as his special friend for the day. They're just so much fun!
I especially love to involve the Toobs in our learning adventures. They can really bring a lesson to life. So here are my top 10 ways to learn with Toobs!
1. Use them as Story Props
The next time you pull out a book, take an extra minute to get some Toobs to use as story props! As you read the story your kids can act it out using the Toobs. For "Are You My Mother?" we got out all the animals and set them out as they appeared in the book.
2. Put them In ABC Order
For an older child, this can be quite challenging since the words aren't spelled out. Have them sound out the first letter of the animal and put them in ABC order!

3. Sorting
This is one of my favorites because you can sort them so many different ways based on what you are learning. When Royal was a bit younger we sorted based on color, stripes vs spots, and size. Now with Baloo we make it a bit more tough. We recently learned about water and land animals. Royal was able to help with this too!

Another way to sort would be herbivore vs carnivore!

4. Play an I-Spy Game
There are many different ways to do this. I wanted to let Baloo practice his reading skills as well, so I wrote out 3 hints for each animal and let him figure out which one it was.
For Royal I give him one clue at a time verbally, and usually keep it to a small pile of animals.

5. Prepare a Dinosaur Excavation
In our rice bin I hid a few dinosaurs and then covered them almost completely.

We didn't have any brushes, so I told the boys to carefully wipe around the dinosaurs to uncover them.

Then they were able to use tongs to carefully lift them out of the rice.

6. Manipulatives for Addition and Subtraction
I will do whatever it takes to get Baloo excited about math, and if that means bringing out the Toobs, then so be it!
On this day we used them for Missing Addend Practice


9. Use as Counters
Royal used them as counters and counting practice!

8. Sensory Bins/Small World Play
I'm sure the original excuse for buying a Toob was for a sensory bin. The animals are just the perfect size for these bins. Here are 2 examples:
Desert Sensory Bin

Arctic Sensory Bin

9. Make Fossils
I wanted to make a dinosaur fossil matching game, so I made salt dough fossils using Toobs. After cooking the salt dough, the boys used the Toob Dinosaurs and matched them!
Our Dino Fossils

10. Outlining
We outlined an F with Frogs for preschool one day. The frogs in the picture aren't real Toobs, but we have done this numerous other times with the real deal! You could outline shapes, words, numbers…whatever you want!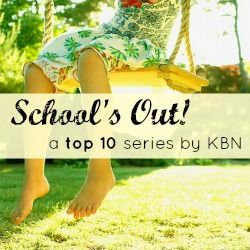 Make sure to check out the other bloggers who will be posting their top 10 learning posts all week long!
Sunday ~ This Reading Mama | The Educators' Spin on It | Kitchen Counter Chronicle | Rainbows within Reach | Kindergarten & Preschool for Parents & Teachers
Monday ~ Train Up a Child Learn as We Go | Housing a Forest | Royal Baloo | Living Montessori Now
Tuesday ~ Toddler Approved | Play Trains! | 3 Dinosaurs
Wednesday ~ The Outlaw Mom | Teach Beside Me | Hands On as We Grow
Thursday ~ JDaniel 4's Mom | All Done Monkey | Fantastic Fun & Learning | KC Edventures | Playing with Words 365 |
Friday ~ Teach Mama | The Usual Mayhem | Nature and Play | True Aim Education | Saturday ~ Creative World of Varya | Craftoart | My Buddies and I