Baloo – 38.5 months
We've decided to start doing weekly themes, and I am getting very excited about it!!  I'm hoping to have them coincide with our letter of the week for the most part.  This week we did H for the Human body.  Then on Wednesday we went to a puppet show at our library.  The puppet show was a story based on an old Aztec tale.  Baloo was very curious about the Aztecs, so Wednesday night I whipped up a few Aztec activities and we switched themes.  So, it's a double-theme week!
Themes
Human Body:
We started off our exploration of the human body by reading through a pretty thorough book on the human body.  I tried to concentrate just on things that he could understand, or things he found particularly interesting.   He really liked the bones section.  He's been talking about his bones for a month or 2 now, and I think this week he finally made the connection and figured out what they are.
After reading the book we pointed out some of our body parts.
Here is Baloo pointing out his kidneys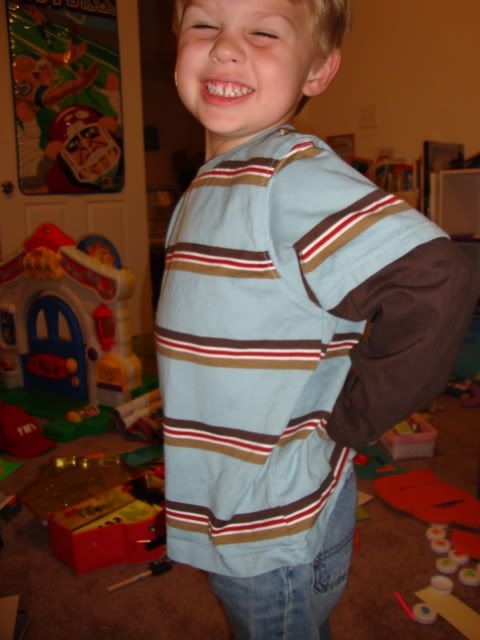 and his brain: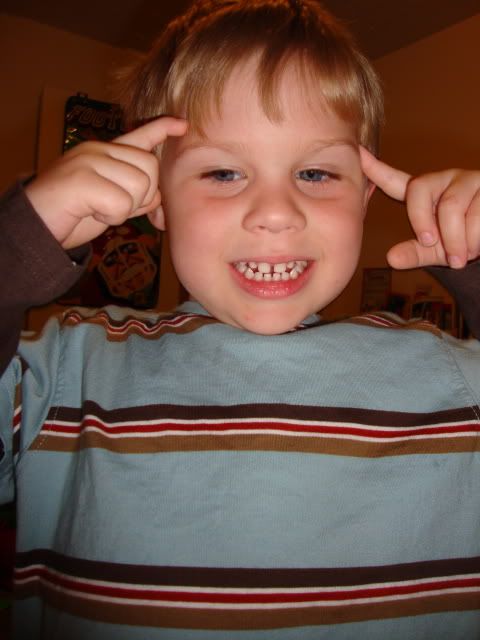 Then we worked on a human body lapbook that we found here:
http://onelittletwolittle.wordpress.com/2008/07/12/human-body-lapbook-pre-k/
The only thing I added to hers is the Measure Me part from Homeschool Share:
http://www.homeschoolshare.com/my_body.php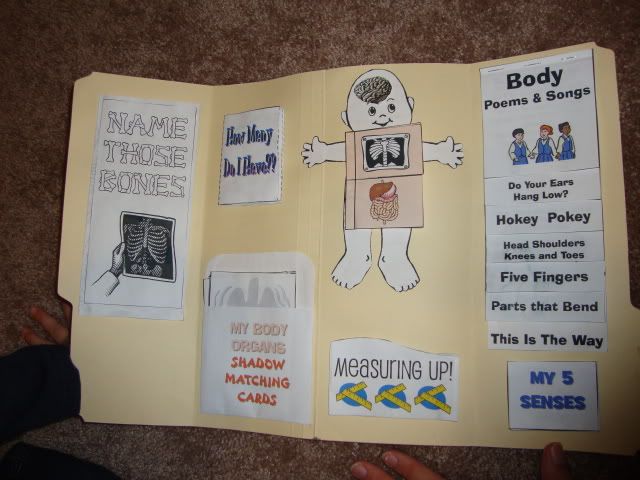 I had him write the numbers when we counted his body parts.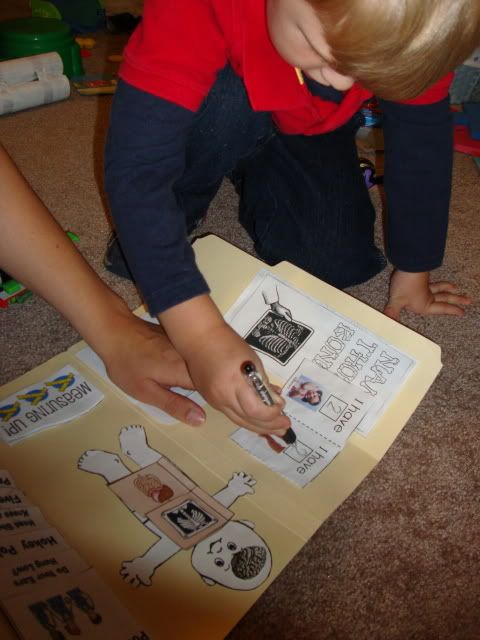 Then, his favorite part of the lapbook, measuring!!  He of course wanted to measure me.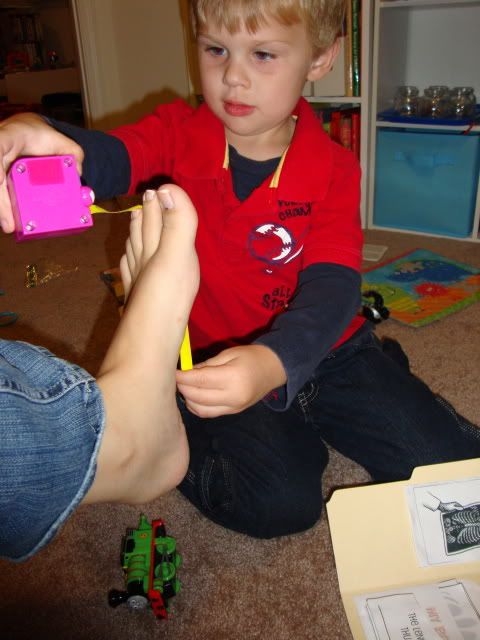 But we measured some of him too!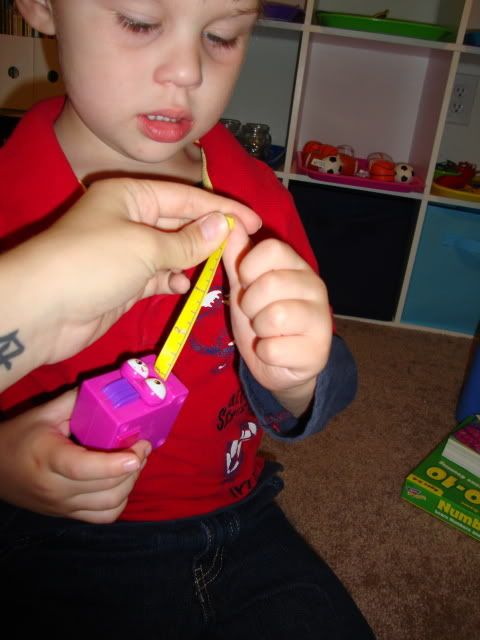 Then we did a Halloween hand wreath.  I say we, but this is really my baby.  I tried to have Baloo help in cutting out the hands, but he got frustrated quickly.  He didn't mind taking a picture with it though!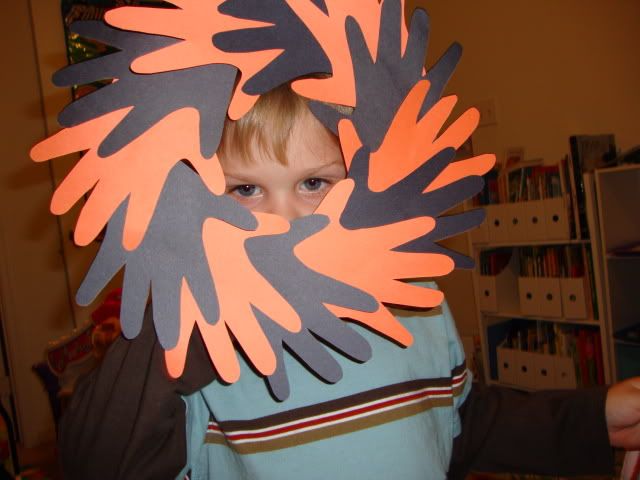 And it took a bit of convincing, but we put it on our front door!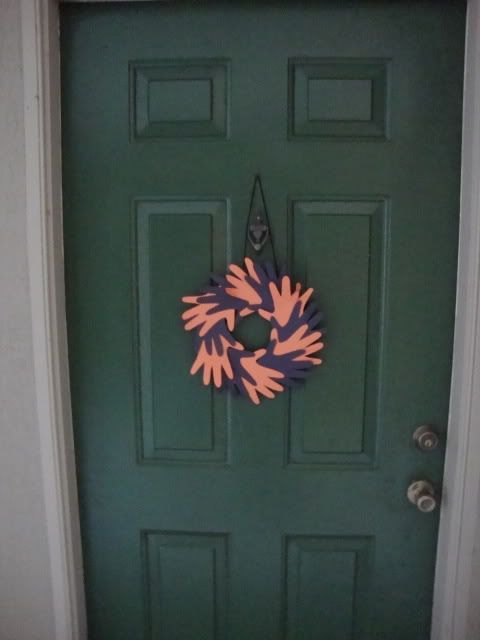 And of course we couldn't skip doing some body outlines!!  He looks bored out of his mind, but he really enjoyed this activity!!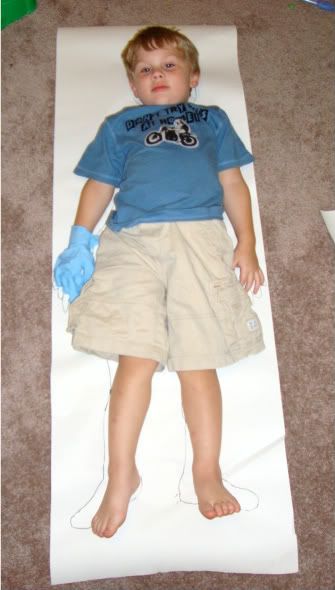 I got the idea to do Royal from another blog last week, and I swear I bookmarked it, but cannot find it now!  I hate it when I do that!!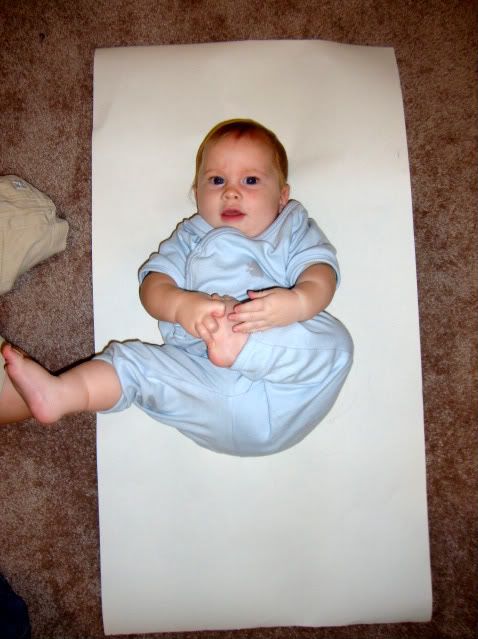 Baloo did the coloring – even Royal's eyes!  I was pretty impressed with his drawings.  And then he and I labeled his outline.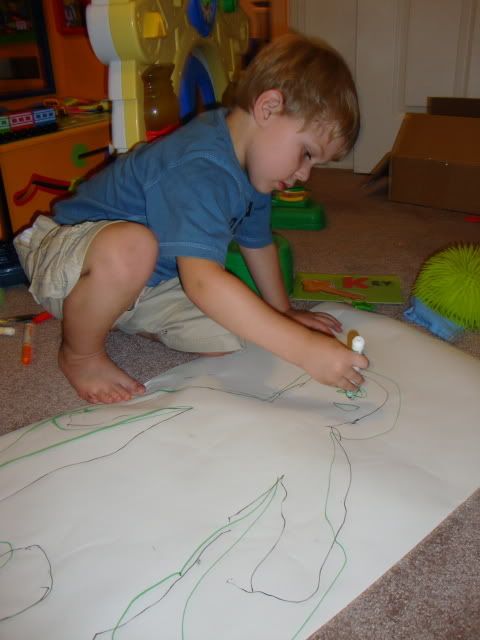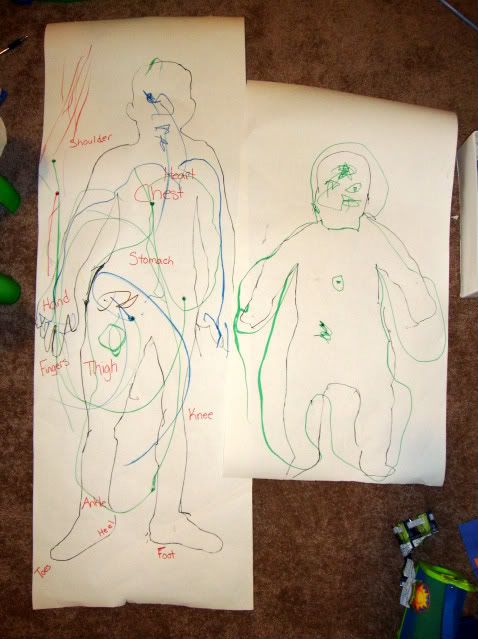 I don't have pictures of some of the things we did.  For instance, we sang a few songs like 10 little fingers, Thumpkin, and Hokey Pokey.  We also had a long discussion about the digestive system and now he always tells me when his food is dropping down to his anus from his stomach.  I guess we could have used less details in the discussion.
Our last activity was a x-ray craft.  The head is made of a paper plate and the bones are toothpicks!  I just made little glue lines where he was supposed to put the bones.  It was challenging for him, but I'm thinking it was pretty great for fine motor skills.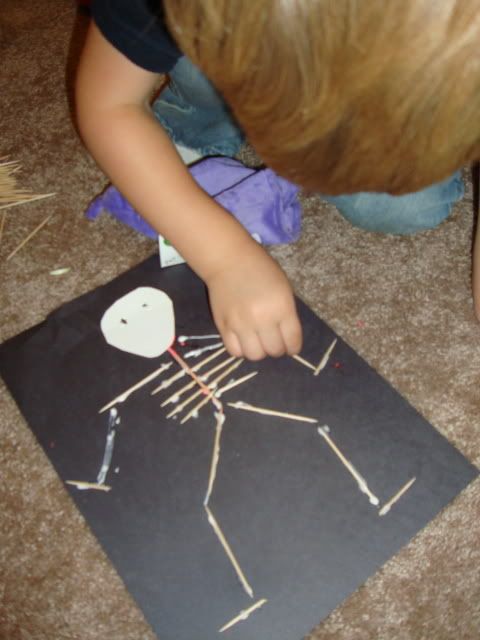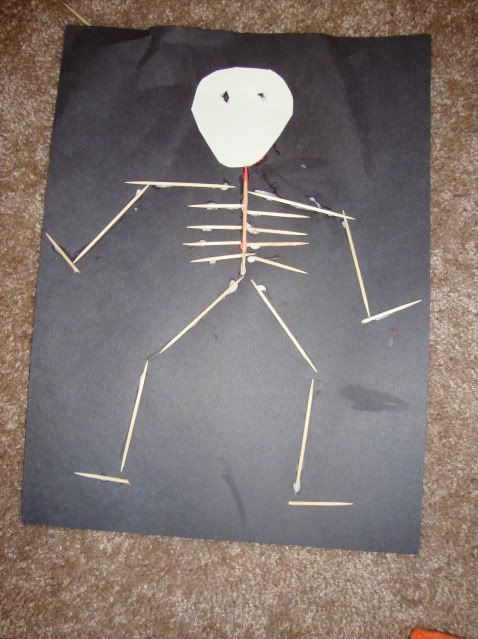 Aztec Theme
The puppet show at our library was about the Aztecs, and Baloo loved it.  He sat still for the entire play – about 40 minutes.  As the play was starting Baloo asked me what an Aztec is (which spurred a few laughs from people around us).  As we left I asked him if he would be interesting in learning more about Aztecs, and he said yes!!  I kind of figured it was an advanced topic, but if he's showing interest it cannot hurt!!
I made a lapbook, but it's really just things he's been working on with an Aztec theme thrown in.  I didn't upload it, because I didn't figure there would be many preschoolers interested in learning about the Aztecs.
Matching Aztec symbols and talking about what they stand for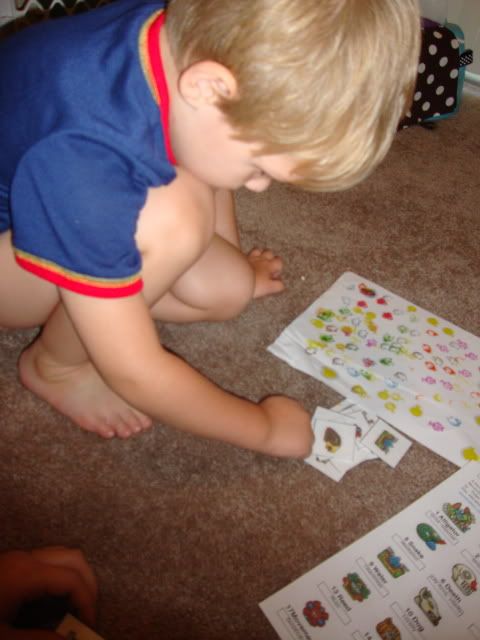 Spelling Aztec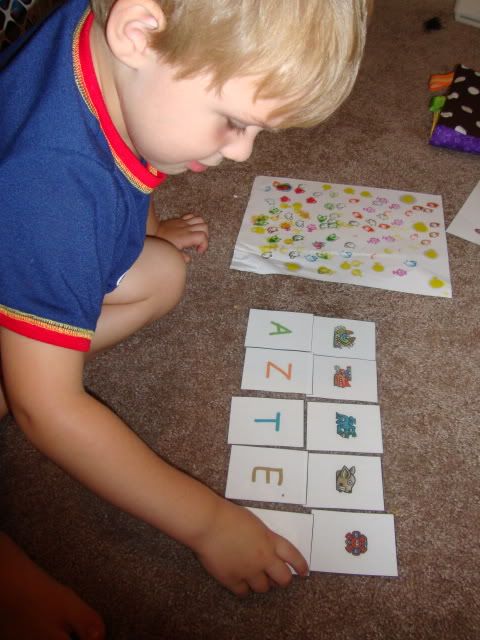 We also did some size sequencing, patterns, and a puzzle.
Then we talked a bit about the Aztecs.  I had a picture of an Aztec person, so we talked about the way he was dressed and his hair.  We also made some corn and called it maize.  And we had some dark chocolate (since the Aztecs ate unsweetened chocoalte).
All in all, I think he learned a little bit about people who are different from us, and enjoyed it!
Tot Trays and boxes
 We honestly didn't get to do a lot of tot trays or boxes this week.  The themes really took up a lot of our time!
This is a water activity we did with food coloring.  I think we spent an hour transferring water and mixing colors.  It was really nice to put down the camera and just enjoy that time with Baloo.  Sometimes I think I get too caught up in trying to get pictures.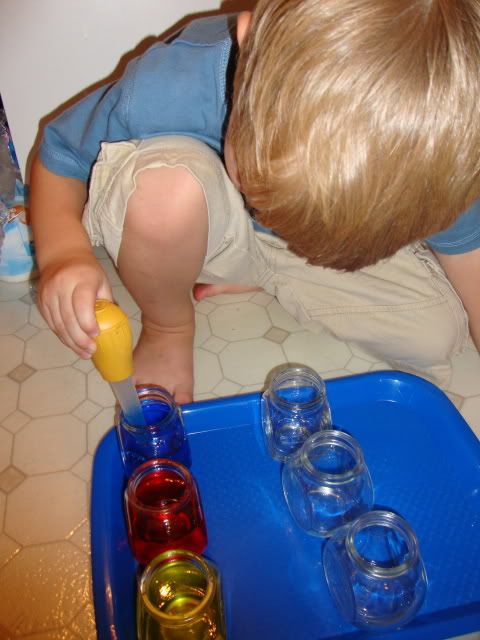 That should be purple, but the blue was way too strong.  Now Baloo thinks that blue and red make black.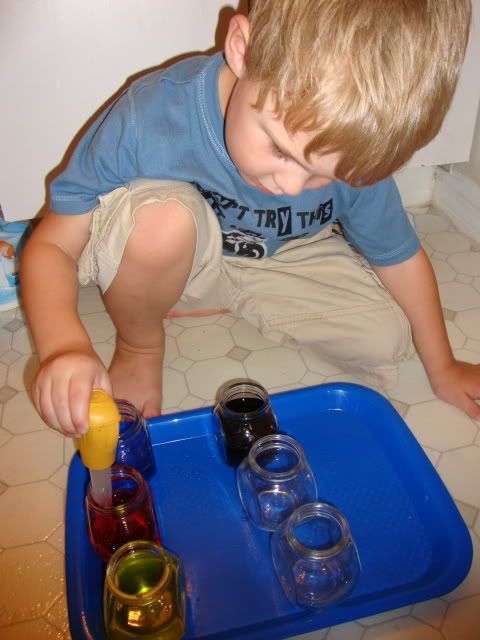 This is before we let loose and just played with the water.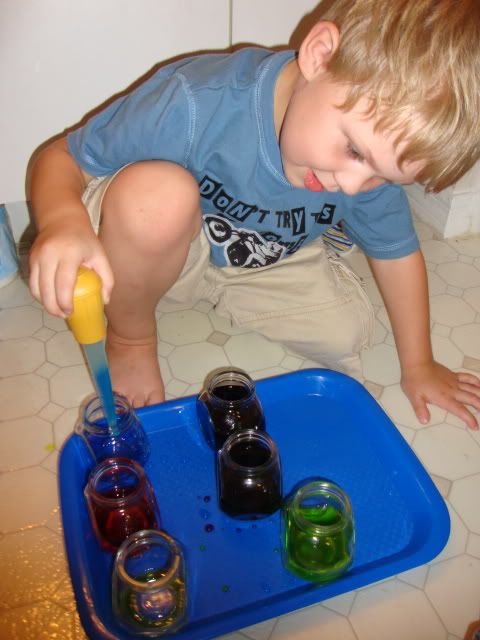 In honor of our human body theme we got our cooking toys out.  I tried to talk a bit about health and nutrition, but really we focused on thinking about how many different things we could make in our little pan.
 And then we ate it…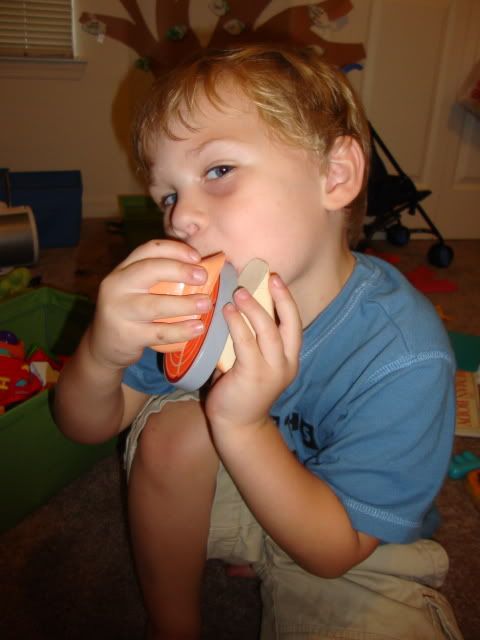 We had a great garage sale find this morning.  Baloo found a Thomas lunchbox with a Thomas puzzle inside.  Unfortunately the puzzle is missing one piece (for the record, who sells a puzzle missing one piece?  I think it's very rude!!) but Baloo really didn't mind.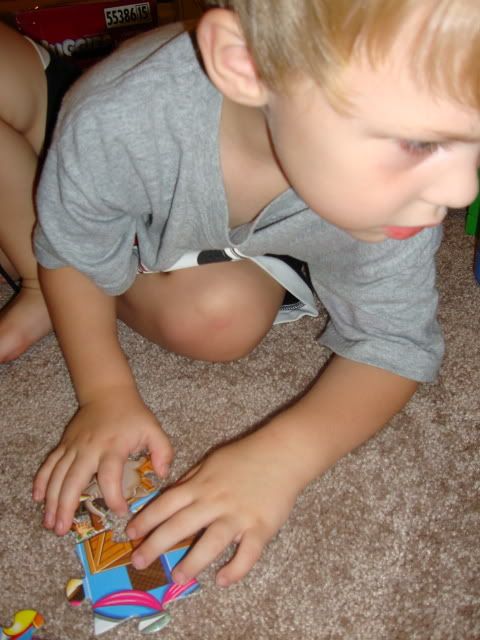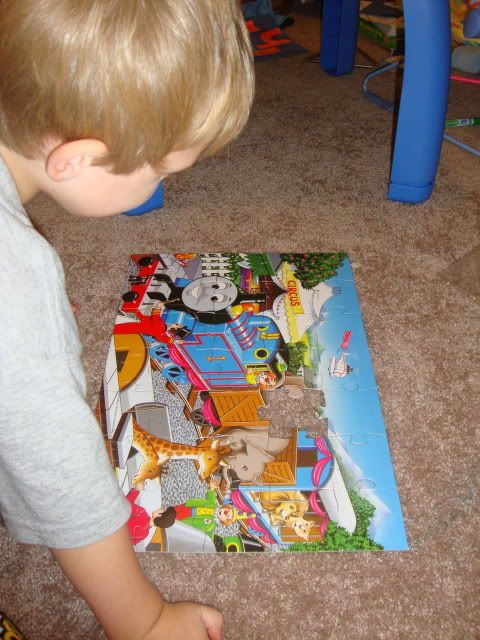 And a great find at Michaels today!!  I found this book that has magnetic letters and words to spell out on the inside.  Baloo is getting into Word World so I told him we could Build a Word!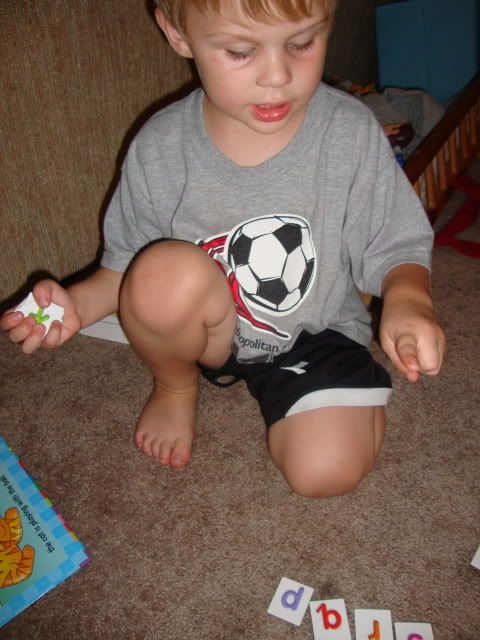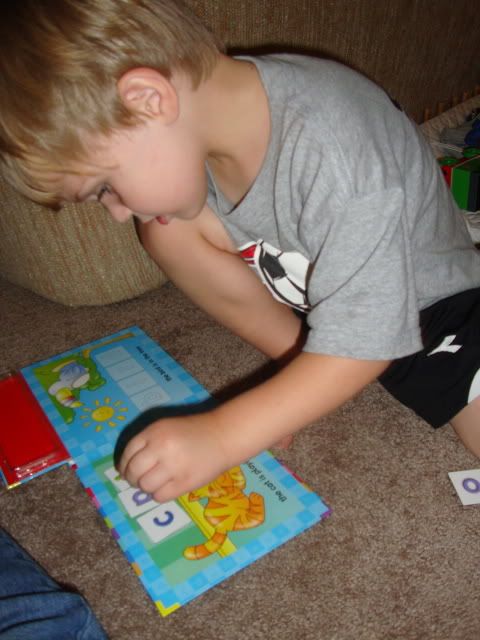 These are the letters from our Magnetic Schoolhouse from last week.  Baloo pulled them out again and sorted them by color…all on his own!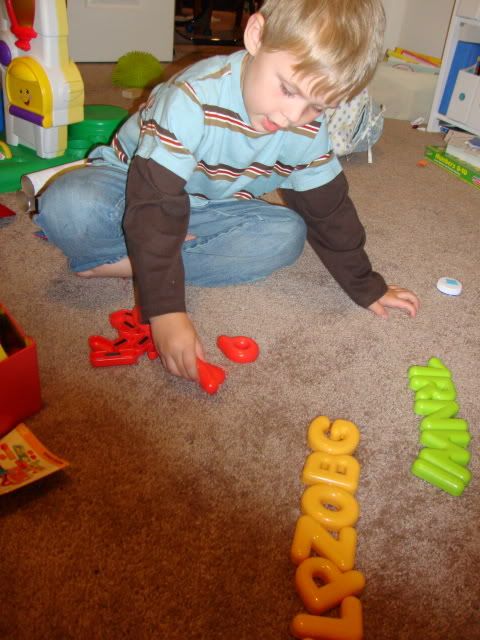 The Letter H
Again, in keeping with the Human body theme, we did H is for Hand.  Last minute I decided that I wanted to do lowercase as well, hence the reason it looks a bit weird.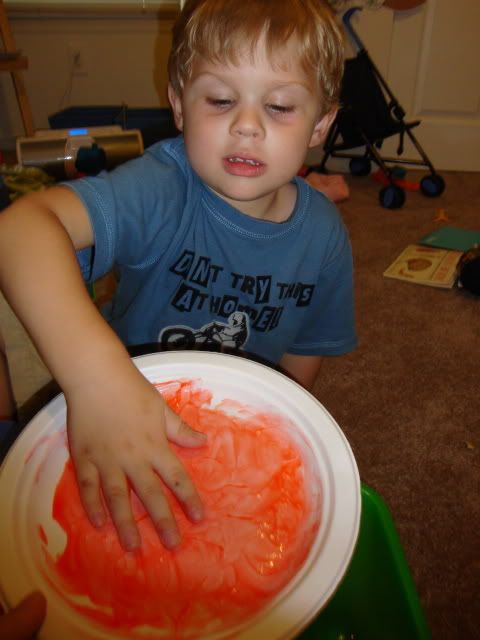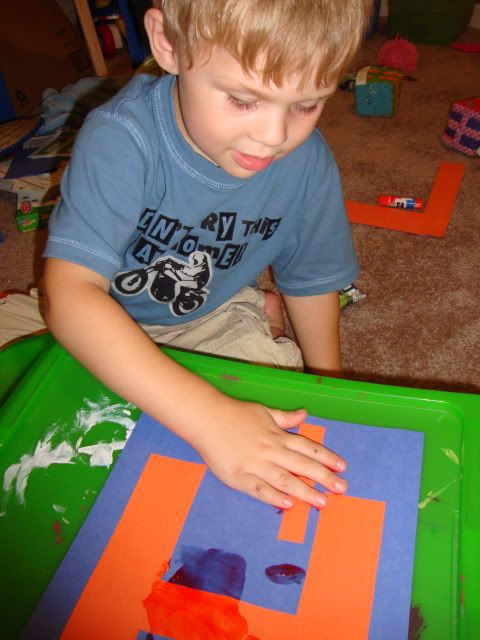 And the final product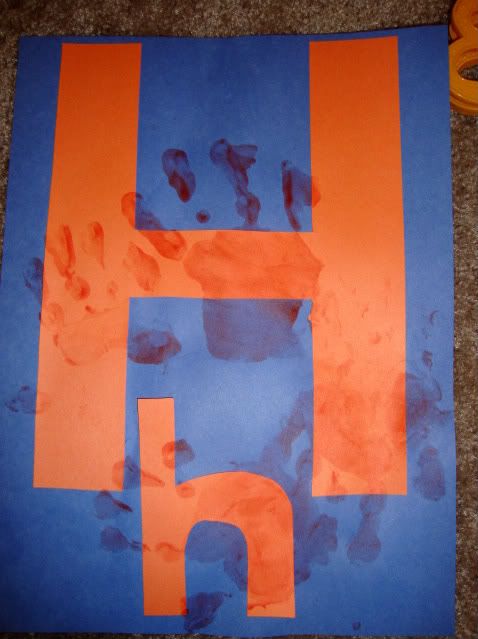 And Other
This was our last week of soccer, and Baloo got a medal!!  I mean, everyone got a medal, but this Baloos first medal and it was a very proud mommy moment.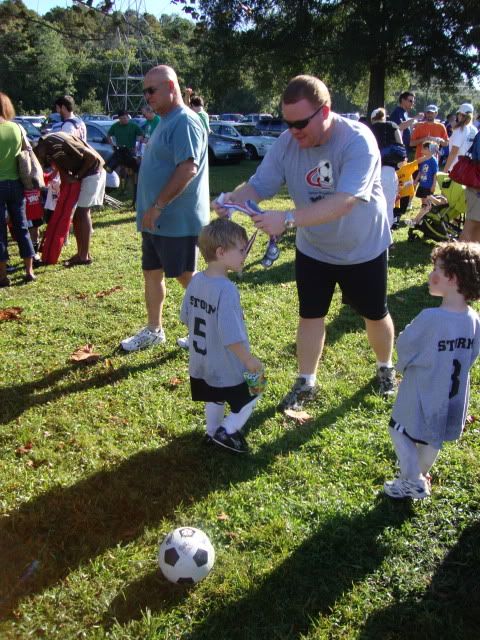 And this is the color book for Royal and Baloo helped me set up.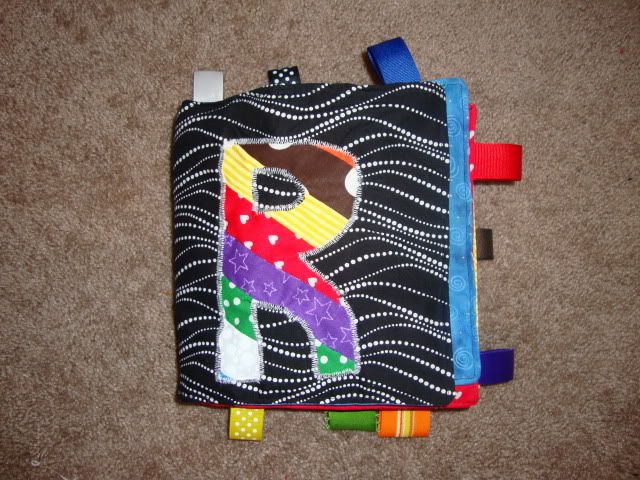 And each page looks kind of like this: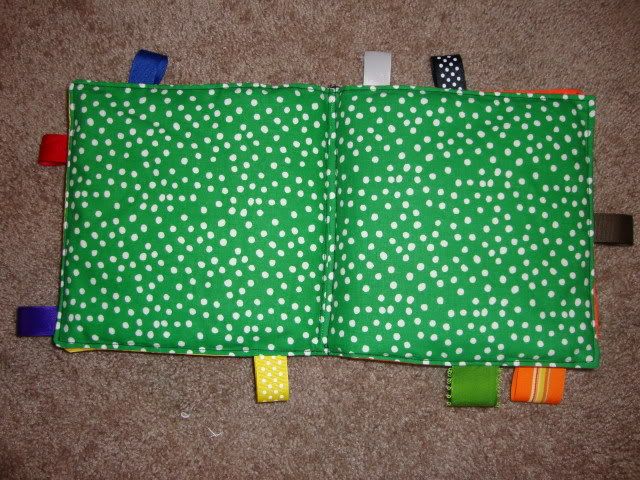 For other great tot school ideas, visit
1+1+1=1.