I think we're finally back on track with tot school.  We did school just about everyday this week.  We typically take off on days where we have an activity in the morning.  We have set play dates on Wednesdays, and other things throughout the week.
Theme – Leaves
We started off our leaf theme with going on a nature walk and collecting leaves!  Baloo had a lot of fun with this!  He filled up the entire bag, and still wanted more leaves.  Unfortunately we have one type of tree here and only found one kind of leaf.
We also got lucky one day.  It was very windy and all the leaves in the playground had gathered on one side.  Baloo had a great time throwing them in the air and just running through them!
The first is a shadow matching activites.  The shadows of the leaves (and names of the tree the leaves come from) are on the black and white page and the actual leaves are on the other page.
Baloo had a lot of fun with this and even seemed interested in the names!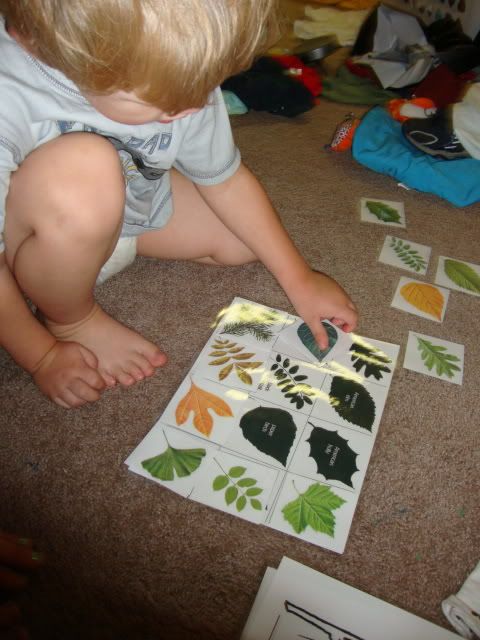 This is a labeled diagram of a leaf.  I would tell Baloo what the first letter of the word was, and he would match it up.  He actually liked this a lot too, but he found it quite easy.
We made our letter L by using a leaf cookie cutter with paint.  Baloo thought this was something else!
Then I had him glue on some leaves I cut out in some pretty fall colors.
We also got to enjoy leaf shaped sandwiches all week.  I never thought putting food into shapes would be so much fun.  We're continuing our leaf theme for another week and I just might try to get Baloo to eat Broccoli.
Turkey crafts!!!
I love Thanksgiving!!!  It's just a nice time of year and I'm hoping to pass that on to Baloo and Royal.  We ended up doing 2 turkey crafts this week.  One came in a package and the other we made up ourselves, for the most part.  This is the packaged one.  Baloo really enjoyed putting it together, but it was set aside shortly thereafter.
This 2nd grade was inspired by this Halloween craft.
We decided to use paint for the footsteps instead of cutting it out.  So we started by very very carefully putting Baloo's foot into paint and placing it on the paper.  Had I been thinking, I would have put his foot close to the middle of the page.
Next we glued on 2 googly eyes, a triangle for the nose, and the red thing for the snood/waddle.  Then I had him glue on the feathers that I had cut out.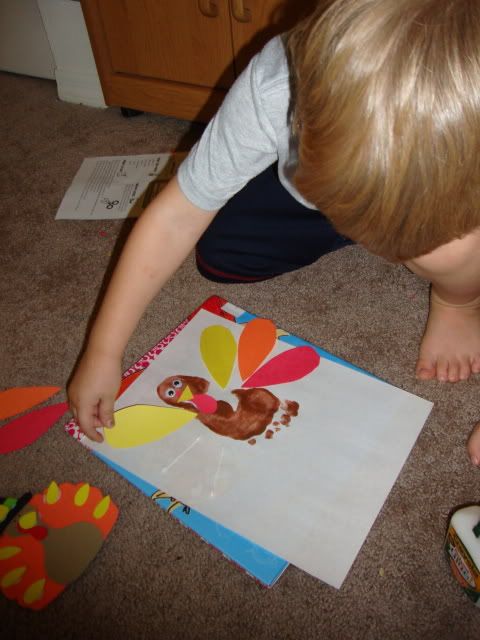 His head looked a little bland so I had Baloo use his fingers to give the turkey a bit of hair.
Lastly I had Baloo use green to color some grass.  And voila, our turkey!!!
Other activities
Target has some n shape sets in their dollar section.  We ended up getting 3 sets!  I'm using them to make these designs and Baloo can match up the shapes.
We used scrabble to spell things.  We spelled Baloo's name, mommy, daddy, Royal's name, and a few other random things.  I think all the blue and red squares on the board were distracting though.  Next time we will try using the other side of the board.
We're starting to change up our circle time/calendar time.  We have a big colored calendar on the wall.  It's a great calendar, but it seems like we're doing school in a different place all the time.  If we're not having school in the dining room, then we don't really do the full circle time.  I toyed around with the idea of moving the board, but it's a BIG board and I didn't think I could find a central enough place.  Plus, I can identify the date from across our apartment, which is convenient.
Then Carissa at 1+1+1=1 posted some calendar tools on her new website.  (Check it out here).  The idea to make a portable calendar sounded like the perfect solution.  JoAnns had a sale on their tri-fold display boards a few weeks ago and I stocked up.  So we busted out one of those, printed out all the tools, and got started.  I'm hoping to get a pocket chart and calendar this week, but the rest of it is done!!
Baloo loves the songs for the days of the week and the months, but his favorite is the "Good morning" song to the tune of 'If you're happy and you know it'.  We still have some extra room, so I'm planning to add a letter/number of the week and maybe something for rhyming.